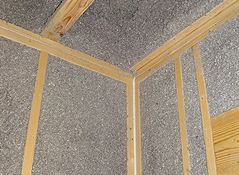 National code requires a minimum of R-30 attic insulation. Our technicians can test your current insulation to determine whether your home meets the national code and add insulation to meet code requirements.
Spray Foam Insulation
Spray polyurethane foam (SPF)insulation requires the minimum amount of space for installation in any structure. The application goes on very thin and then expands to fill even the tiniest nooks and crannies, completely sealing off your interior environment form harsh outdoor conditions. It can even be shaped and trimmed to fit any design or structural needs of your building.
Spray polyurethane foam (SPF) is better than any other type of insulation at reducing air leakage.
With foamed-in-place insulation, it is relatively easy (though not inexpensive) to fill wall and ceiling cavities completely. Closed-cell spray foam provides a higher R-value per inch (6.5) than less expensive insulation types like cellulose and fiberglass (3.5 to 3.7). Most spray polyurethane foam is called "two-component" foam. Two ingredients—conventionally called "A" and "B" components—are mixed on site using special equipment mounted in a trailer or truck. Heated hoses convey the components to a mixing gun that sprays the chemicals on the surfaces to be insulated.
Cellulose Blown-In Insulation
Cellulose is "green." It's made of 80% post-consumer recycled newsprint. The fiber is chemically treated with non-toxic borate compounds (20% by weight) to resist fire, insects and mold. The Cellulose Insulation Manufacturers Association (CIMA) claims that insulating a 1500 ft2 house with cellulose will recycle as much newspaper as an individual will consume in 40 years.
Cellulose insulation is safe. It is made of paper, but the chemical treatment provides it with permanent fire resistance. There's been static generated by the fiberglass industry warning that cellulose could burn. But independent testing confirms it's safe and cellulose is approved by all building codes.
Blown cellulose can be installed in new or existing structures. It is popular in retrofit applications because existing wall finishes are not removed to install the insulation. It is favored in attic applications because you can blow unrestricted depths of fiber to achieve deep coverage with very little labor.
Regardless of the age of your home, we're confident that you'll agree that Applegate is your insulation solution.
Tax Credits
In addition, adding insulation to your home or business may qualify you for energy tax credits. To learn more, call us to complete an assessment of your home or business.